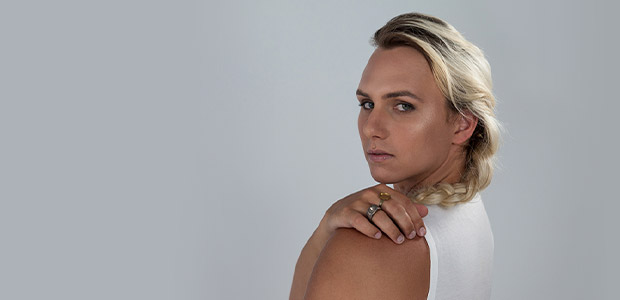 FFS Tracheal Shave in Atlanta, GA
A protruding thyroid cartilage (colloquially referred to as an Adam's apple), can be a stigma for a transgender woman. The male thyroid cartilage is generally much more pronounced and visible than a woman's generally is, and is one of the biggest gender-related differences between both genders.
For this reason, a tracheal shave, medically known as a chondrolaryngoplasty, is one of the most common surgical procedure for transgender women. At Radiance Surgery & Aesthetic Medicine, dual board-certified maxillofacial and facial plastic surgeon Dr. C. Carson Huynh has the experience and innovative technology that allows him to perform a tracheal shave as a stand-alone procedure or in combination with other procedures of Facial Feminization Surgery and achieve natural, safe results. This means hiding the incision, however small, so that the scar is as unnoticeable as possible. Also, because a tracheal shave is so close to your vocal chords Dr. Huynh is extremely careful to not damage your voice.
To learn more about tracheal shave surgery and how it could benefit you, contact Radiance Surgery & Aesthetic Medicine to schedule your personalized consultation with Dr. Carson. We proudly serve our community in Atlanta and the neighboring communities of Sandy Springs, Buckhead, Dunwoody, Alpharetta, Kennesaw, Roswell, Johns Creek, Duluth, Lawrenceville, Suwanee, Marietta, Brookhaven, and Cumming Georgia.
What Is A Tracheal Shave?
A tracheal shave, also known as Adam's apple reduction surgery or chondrolaryngoplasty, aims to remove the Adam's apple of transgender women. A prominent Adam's apple is a constant embarrassment for transgender women on their journey to becoming their more authentic self. For this reason, a tracheal shave is one of the most common surgical procedure for transgender women.
It is important to note that a tracheal shave cannot change the pitch of your voice. If you want to alter the pitch of your voice, a speech therapist can help you with voice feminization speech therapy. In some cases, voice cord surgery may be necessary to achieve your ultimate goals.
How Is A Tracheal Shave Performed?
A tracheal shave with Dr. Huynh can be performed under IV sedation anesthesia or under general anesthesia in combination with other FFS procedures. To access the tracheal cartilage for reduction, a small incision is placed along a skin crease high on the neck below the chin where Dr. Huynh will access the thyroid cartilage. The cartilage will be reduced by shaving the upper and outer borders where it is the most prominent.
Dr. Huynh will only shave away as much of the cartilage as he deems safe while still aiming for the aesthetic you desire. Once the tracheal cartilage is reduced to a more feminine appearance, Dr. Huynh will stitch together the surrounding muscles and overlying skin edges and the incision will be dressed for healing.
What To Expect From A Tracheal Shave Recovery?
During a tracheal shave recovery, you can expect to feel some discomfort for several days following your procedure.Dr. Huynh may recommend that you rest your voice as much as possible to avoid damaging your vocal chords since the thyroid cartilage is very close to where those chords lie and the swelling can easily cause unnecessary damage. You will also be instructed to eat soft foods or liquids until your throat feels comfortable enough to swallow. 
A complete recovery from a tracheal shave usually takes about two to four weeks, depending on the patients and how they heal. Most patients are able to resume work and normal activities after the first week, as long as their job allows them to rest their voice. Following your surgery, you will have stitches at the incision site that will need to be removed after about 7 to 10 days. Initially, you may experience some soreness, swelling, a hoarse voice, and possibly a bit of trouble swallowing. These symptoms should subside relatively quickly, but if anything seems out of the ordinary, don't hesitate to call our office. Temporary side effects can include:
Slight pain

Swelling

Bruising
Sore throat

Weak voice

Difficulty swallowing
Dr. Huynh can give you pain medication to manage the pain and icing the area can also help with discomfort. Once initial swelling subsides, the results of your tracheal shave should be apparent immediately. You should see a noticeably smoother neck with a feminine, or non-existent, Adam's apple.
Every person wants to look in the mirror and see that the person looking back at them is their true self: stunning, healthy, and whole. Radiance is the key to showing the world how you see yourself.
At Radiance, Dr. Huynh and Dr. Hamamdjian will support you every step of the way, helping you achieve the most from your radiant transformation. That means faster healing from surgeries and better outcomes.
Beyond Confidence – Empowering people to reach their truest, highest level of self-expression so they can be successful in life.
What Does A Tracheal Shave Procedure Cost in Atlanta, GA?
Due to a tracheal shave being considered a cosmetic, or elective procedure, most health insurances will not cover the cost. In general, a tracheal shave procedure costs anywhere from $3,000 to $4,000 depending on what your surgery entails. Dr. Huynh is deeply passionate about helping his patients achieve their aesthetic dreams, which is why he offers many financial options. During your consultation, he will discuss with you the full details of your procedure and provide you with the total amount you can expect.
What Other FFS Procedures Can Tracheal Shave Be Combined With?
A tracheal shave can be combined with nearly any other facial feminization procedure. Many of Dr. Huynh's transgender patients have opted to get a tracheal shave along with other procedures like forehead and jaw contouring, rhinoplasty, and lip augmentation for an all-over feminization of the face. Combining a tracheal shave procedure with other feminization procedures can be a huge part of their gender affirming journey to becoming more comfortable and confident in their own skin. Plus, having a tracheal shave surgery done at the same time as other facial procedures have saved patients money and additional recovery time.
Ask About A Tracheal Shave in Atlanta, GA
A tracheal shave surgery is a popular procedure for patients looking to diminish the appearance of a prominent, masculine Adam's apple. When done well, a tracheal shave surgery can be life altering—for both a patient suffering from gender dysphoria and women who want to achieve a smoother, more feminine neckline. Patients across Georgia and the East Coast have chosen Dr. C. Carson Huynh for his outstanding patient care, impressive education, advanced techniques, and consistently gorgeous results for over the past 20 years. Schedule your tracheal shave consultation with Dr. Huynh in Atlanta, GA today. Call Radiance Surgery & Aesthetic Medicine at (678) 412-0311 or contact us through our website to get started.