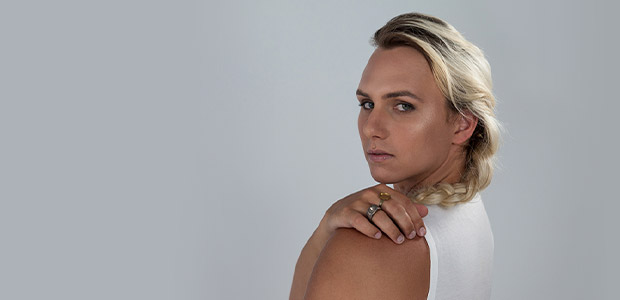 FFS Feminizing Rhinoplasty in Atlanta, GA
Patients who wish to undergo a feminizing rhinoplasty for facial gender confirmation will benefit from a surgeon who not only understands how to perform rhinoplasty skillfully but can also do so within the context of a complete facial feminization surgery (FFS).
The shape of the male nose is generally larger and more angular in comparison to the female nose. The bridge of the nose may also be wider, while a woman's is narrower with the tip of the nose typically pointed upwards. While these subtle differences may go unnoticed to the casual eye, they are often what distinguishes the characteristics of gender. To make the male nose appear more feminine, it does require some reshaping and refining, which goes beyond the confinements of a traditional rhinoplasty. 
The biggest challenge when feminizing the male nose structure is maintaining an aesthetic harmony among the existing or newly feminized facial features. As an experienced, prestigious, and nationally recognized expert in facial plastic surgery, Dr. C. Carson Huynh understands the importance of this balance of facial features during such an important transition so that when patients look in the mirror, they see who they've always known themselves to be.
To learn more about Feminizing Rhinoplasty and how it could benefit you, contact Radiance Surgery & Aesthetic Medicine to schedule your personalized consultation with Dr. Carson. We proudly serve our community in Atlanta and the neighboring communities of Sandy Springs, Buckhead, Dunwoody, Alpharetta, Kennesaw, Roswell, Johns Creek, Duluth, Lawrenceville, Suwanee, Marietta, Brookhaven, and Cumming Georgia.
What Is Feminizing Rhinoplasty?
The width, length, and angle of a patient's nose (from the nose and upper lip and the nose to the forehead) often carry gender specific characteristics. For example, the space from the nose to the upper lip on a man may be significantly smaller than it would be for a woman, since a man's nose is often larger. A skilled surgeon must be able to create a physical and aesthetic balance when shaping the nose, especially in relation to other transitional procedures that may be done in the future or have already been done. 
A feminizing rhinoplasty, also known as a transgender rhinoplasty, is a surgical reshaping of a transgender patient's nose to create a more feminine appearance. Dr.  Carson Huynh combines his surgical expertise, knowledge of facial anatomy, and artistic eye to create a nose shape that remains balanced with the patient's face and personal goals. A feminizing rhinoplasty will redefine the nose by reducing the length and width of the nose, while possibly adding a slight lift to the nose tip.
Feminizing Rhinoplasty Consultation with Dr. Huynh
During your consultation with Dr. Huynh, you'll have an opportunity to discuss your concerns and goals for your rhinoplasty. Dr. Huynh will examine the shape of your nose and the characteristics of your individual bone structure to create an aesthetic that is cohesive and beautiful. He will also evaluate your medical history, previous surgeries, drug sensitivities, and your lifestyle habits including whether you smoke or drink excessively.
Dr. Huynh will create a rhinoplasty plan, including anesthesia and his individual surgical approach, customizing your needs and objectives. He and his staff at Radiance Surgery & Aesthetic Medicine will work alongside you through pre- and post-op, recovery, and follow-up appointments to ensure that everything goes as smoothly as possible.
Every person wants to look in the mirror and see that the person looking back at them is their true self: stunning, healthy, and whole. Radiance is the key to showing the world how you see yourself.
At Radiance, dual board certified facial plastic surgeon Atlanta Dr. Carson Huynh and his team will support you every step of the way, helping you achieve the most from your radiant transformation. That means faster healing from surgeries and better outcomes.
Beyond Confidence – Empowering people to reach their truest, highest level of self-expression so they can be successful in life.
What to Expect from Feminizing Rhinoplasty Surgery
Your nose feminizing rhinoplasty surgery will be done as an outpatient procedure at our accredited surgical center. An overnight hospital stay is generally not required. An anesthesiologist or certified nurse anesthetist will administer a general anesthesia so that you can remain comfortably asleep while being monitored throughout your surgery.
Dr. Huynh will make micro-incisions that allow him to complete the reshaping of your nose while creating less trauma and preserving an optimal amount of circulation to the tissue. For a feminizing rhinoplasty, the emphasis is on giving the nose a more feminine profile and proportions in relation to the facial frame. Dr. Huynh will make incisions in order to access the cartilage and bone and begin shaving to reduce the width and length of the nasal structure. He may also reshape the bridge of your nose to make it straighter and redefine the tip to be shorter and slightly uplifted.
Fine, dissolvable sutures will be put in place to close the incisions inside the nostrils after your rhinoplasty is complete. The small external skin incision is typically closed with fine sutures and are removed at 1 week after.   Your results will be noticeable fairly soon after surgery and will continue to improve as you recover. Dr. Huynh will provide detailed instructions on how to care for your new nose, medications, activity levels, and follow-up appointments. It's important for the quality of your results that you follow these instructions carefully.
Start Your Journey with Feminizing Rhinoplasty
Choosing to undergo a surgery that will not only change the way other people see you but also change the way you see yourself is a big step in a person's journey. It's important when undergoing a rhinoplasty for the purpose of achieving a more feminine nose, that you choose a plastic surgeon who is an expert in Female Feminization Surgery. There are important factors to be considered when performing a feminizing rhinoplasty to maintain an overall balance and facial harmony.
Dr. Huynh is one of only a handful of surgeons in the country who holds dual doctorate degrees in the practice of maxillofacial and facial aesthetic plastic surgery. Dr. Huynh uses these top-tier talents and skills to help improve and change the lives of people from and around Atlanta and Sandy Springs. If feminizing rhinoplasty is the start of your transitioning journey, Dr. Huynh also specializes in Facial Feminization Surgery (FFS), a highly specialized area of surgery designed to transform a face with strong, masculine features into softer, more feminine characteristics. FFS can involve forehead bone reducing, hairline lowering, brow lift, cheek augmentation, and more.
To learn more or book your appointment for a consultation, please contact our office to schedule your private consultation!
Feminizing Rhinoplasty FAQS