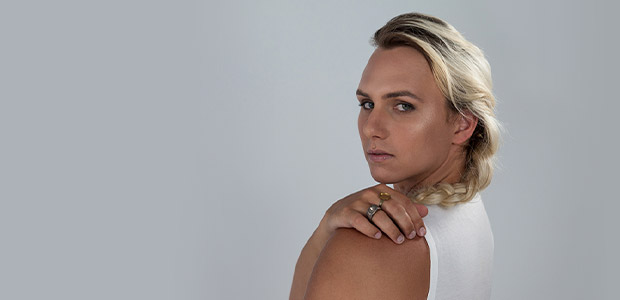 Brow Lift | Forehead Contouring | Hairline Lowering
FFS Brow Lift | Forehead Contouring | Hairline Lowering in Atlanta, GA
One of the most defining characteristics between a male and a female forehead is a more prominent brow bone in males and softer one in females. There are also noticeable differences in eyebrow shape and hairline pattern.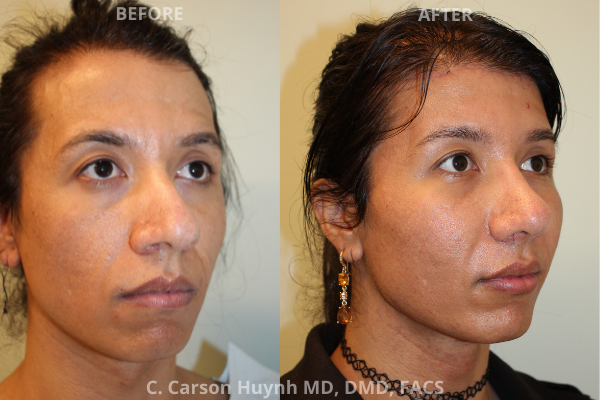 A masculine forehead has a heavier brow ridge and, by softening this, a lighter, elegant, and more feminine appearance can be obtained. A Brow Lift provides dramatically feminizing results, especially when combined with Forehead Contouring and Hairline Lowering procedures. The results truly transform the appearance of the upper third portion of the face. 
Dr. C. Carson Huynh is an experienced, prestigious, and nationally recognized facial plastic surgeon. With a humble immigrant background, Dr. Huynh developed a desire to help people at a young age and pursued that fashion by gaining an advanced education in facial plastic surgery. In his twenty years of experience, he has learned and developed advanced surgical techniques, including techniques for forehead contouring.
To learn more about FFS brow lift, forehead contouring, and hairline lowering and how they might benefit you, contact Radiance Surgery and Aesthetic Medicine to schedule your personalized consultation with Dr. Huynh. We proudly serve our community in Atlanta and the neighboring communities of Sandy Springs, Buckhead, Dunwoody, Alpharetta, Kennesaw, Roswell, Johns Creek, Duluth, Lawrenceville, Suwanee, Marietta, Brookhaven, and Cumming, Georgia.
When it comes to Facial Feminization Surgery (FFS), or facial gender affirmation surgery, many patients request these three procedures—Brow Lift, Forehead Contouring, and Hairline Lowering—to be completed together for more cohesive results.
A brow lift is known for its ability to eliminate unflattering wrinkles and grooves across the forehead, but it can also be used to feminize the brow. With a brow lift, the skin is lifted along the entire forehead, which repositions the apex and tail of the eyebrows into a higher or more feminine position. 
Dr. Huynh typically uses a limited incisions approach when done as a singular procedure, utilizing small incisions to lift the brows rather than a longer hairline incision. The  limited incision approach typically reduces healing time for patients. 
What Is FFS Forehead Contouring & Hair Line Lowering in Atlanta, GA?
Forehead Contouring surgery refers to reshaping both the frontal bone and superior orbital rims of the  forehead region. This procedure is recommended for patients who want to address a protruding brow bone and reshape their orbital bones to achieve a softer, more feminine appearance. Masculine foreheads are typically more prominent than feminine ones, characterized by a wider shape and a heavier brow ridge above the eye area. Forehead contouring can be performed to reduce these traits and increase the overall femininity of the face.
High hairlines and vertically long foreheads are common male characteristics. Typically, women with high hairlines or large foreheads use their hair or other methods to hide their larger forehead. Hairline lowering aims to create a shorter forehead by bringing the hairline down and reshaping the hairline to rounder shape typically seen in a female hairline. This procedure is commonly combined with forehead contouring and the brow lift because all three procedures can share the same incision and produce a highly effective outcome for feminization.
Why Choose Dr. Carson Huynh of Radiance Surgery and Aesthetic Medicine?
As a world-class fellowship trained, dual board-certified maxillofacial and facial plastic surgeon with over twenty years of surgical experience, Dr. Carson Huynh's intellect, ethics, and dedication to his education, technique and surgical craft have earned him numerous coveted awards, distinctions, positions of honor, and lifetime relationships with his patients and colleagues. Dr. Huynh's training is rare in that he is one of the few surgeons with dual training in both maxillofacial and facial plastic surgery. This training gives him an exclusive skill set and offers unique approaches to how he operates on facial bones and soft tissues during facial aesthetic surgeries, which makes him an ideal doctor for completing and cosmetic or facial restoration.
Across the country, he is well-known and sought-after for his skills in facial beautification, feminization, and rejuvenation surgeries. Dr. Huynh's deep empathy and respect for people are what drives him to find lasting solutions for his patients in the safest possible ways. With Dr. Huynh, you can expect an experienced and knowledgeable surgeon who has treated hundreds of patients for a variety of different reasons and patients of many diverse ethnicities. You can expect expertise as a facial contouring specialist because Dr. Huynh operates with unmatched skills and an eye for facial aesthetics. Lastly, you can expect artistry as Dr. Huynh understands how each patient's characteristics are unique to them. His intention is never to make his patients look identical, but rather to use his artistic abilities to achieve the most natural results.
Every person wants to look in the mirror and see that the person looking back at them is their true self: stunning, healthy, and whole. Radiance is the key to showing the world how you see yourself.
At Radiance, Dr. Huynh and Dr. Hamamdjian will support you every step of the way, helping you achieve the most from your radiant transformation. That means faster healing from surgeries and better outcomes.
Beyond Confidence – Empowering people to reach their truest, highest level of self-expression so they can be successful in life.
What to Expect from Your FFS Brow Contouring Recovery?
Facial feminization surgery has a wide range of recovery times, depending on the combination of procedures chosen by both you and Dr. Huynh and how your body heals. Generally, recovery time is two to three weeks when involving one of these procedures or a combination of forehead contouring, hairline lowering, and brow lift. The combination of these procedures does not increase the recovery time as Dr. Huynh is often able to use the same incisions to conduct all three procedures.
During your recovery, our team will provide you with customized post-operative instructions that you should follow thoroughly. You can expect some swelling, bruising, and soreness with the possibility of headaches as the procedure focuses on the forehead. Dr. Huynh will prescribe medication to help with any discomfort, but pain should dissipate in just a few days. To promote healing and minimize swelling, we recommend that you avoid strenuous activities for the first two to three weeks. Most patients are able to return to work or school after just a week.
Schedule Your FFS Brow Contouring Procedure Today in Atlanta
Contact Radiance Surgery and Aesthetic Medicine to schedule a consultation with Dr. C. Carson Huynh in Atlanta, GA. During your consultation, he will first sit down with you and discuss your goals and expectations for FFS brow contouring procedure. Then, he will thoroughly examine your facial structure, shape, and the quality of your skin. He'll ask some health-related questions to ensure that you are the best candidate for this procedure. Lastly, he will provide his expert recommendations on the best ways to achieve your aesthetic results. If you're ready to achieve a gorgeous feminine brow, we invite you to call (678) 412-0311 or reach us online today!